Today I am linking up with
A Teacher without a Class
for a $ themed linky!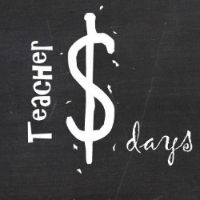 The goal is to tell you something that I love that costs $1 or less. It can be something I made, something I bought, something I want, whatever. Head on over to link up!
I absolutely LOVE the dollar store as many of you know, so I can always find MANY things that are a dollar, but since Earth Day is coming soon I am going to share my Earth Day Syllable Scoot. You can purchase it
here
in my Tpt store. A friend of mine looked all over the internet searching for something for Earth Day with a group of words to sort into syllables. She emailed me and asked if I could whip something up, and here it is. I know there are TONS of free products out there for Earth Day, but if you are looking for something like she was, here it is! It can be used as a Scoot game or an independent center.
Another great find for $1 were the clear ketchup/mustard bottles from Walmart. I found several links for making different kinds of paint that I can't wait to try and these bottles are perfect for that. They are in the section with all the utensils.
One last one....just a little over a $1 though....but my class is learning about plants next week and I found this on Tpt. It's $1.50 but is a fabulous little activity to teach the parts of the plant and what parts the foods we eat are. Click
here
to get it.
Gotta run....all this dollar talk is making me want to go shopping and I really just need to get out of the house for some "me" time. Hop on over and link up so I can have some more suggestions.
Have a great Friday night!
Thanks for hanging with me,
Angie