As I was grading some papers today I realized that I still have a handful of students who are still struggling with greater than, less, than, and even EQUAL numbers. I grabbed up the computer and put together some worksheets that I hope will help them over the next couple of weeks to better understand the concept after I reteach them in a small group this week. I wanted to give this little set of worksheets away as a Freebie to you!!! If your kids are struggling with this too, or just need some extra practice OR you need a quick check assessment, please grab them at my store. Click
HERE
or on the picture below!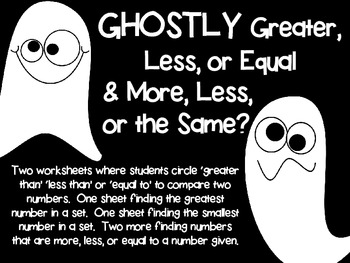 And if you just love these little ghosts on the cover you can get them for FREE too from The Enlightened Elephant's
store
or by clicking the picture below. I just thought they were TOOO precious to pass up!!
I would LOVE to hear what you think. Your feedback makes me soooo happy! Headed off to spend my last day of Fall Break with the kiddos. It's back to work tomorrow!!